Blog Home
Hobbies to Take Up this Month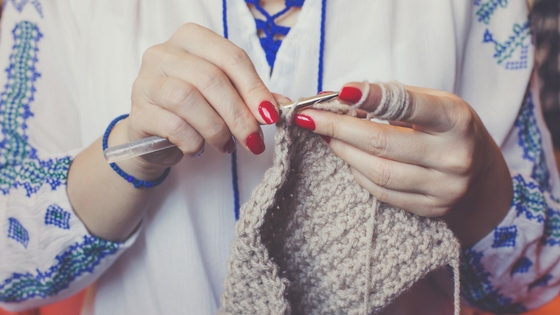 Any time is a great time to pick up a new hobby, but now is a good time, too. March brings you a couple excuses to try a new hobby: the second week of the month is Crochet Week and the 18th is National Quilting Day. If you're interested in picking up these or any other hobbies like calligraphy or blogging, read this month's Crofton Village Blog for tips and references for trying them, right in your own apartment in Crofton, MD!
Crocheting
Crochet isn't quite a lost art, but it isn't the most popular hobby in the world. But you can make a lot of cool things through crocheting, whether you make a headband, a simple, cozy blanket, amigurumi, or other projects for beginners that you can use around the apartment. Especially if you know someone who knows crochet, you can use the learning experience as a time to reach out to them and bond with them. Even if you learn crochet online, you'll be surprised at how good it feels to make something out of your own two hands.
Quilting
Make use of scraps of fabric you have lying around the apartment or repurpose old T-shirts you know you'll never wear but that have sentimental value for you with this skill. You can even make someone a fancy gift you can take pride in, knowing they'll always use it. This is another good craft to learn from someone. The more people who work on a quilt, the faster it goes, after all! Learn some piecing tips to start on the right foot with and follow some cheat sheets to keep track of your measurements. Check out the Diary of a Quilter blog for help on making a quilt from start to finish as you go solo with the hobby.
Calligraphy
These last two options are great hobbies for anyone to try, even if you don't normally consider yourself a writer. Calligraphy is a fun way to help you focus on something specific, calm your thoughts, and control your hand movements. Julia Bausenhardt's "A Beginner's Guide to Modern Calligraphy" is a great place to start. She gives a great rundown on the supplies you'll need and strokes you can practice. Learning calligraphy can often help your mental health and artistic skills, too. Plus, it's a beautiful skill to show to your friends!
Blogging
In this digital age, there are plenty of blogs to follow, but that doesn't mean you can't add your voice to the mix! You may want to blog for business and marketing reasons, or you might want to just hone your writing skills and find an outlet for your thoughts. Find your reason for blogging so it can be meaningful to you. Then can choose a platform and get started. Amy Lynn Andrews has some great tips for starting a blog.
What other fun hobbies should we try? Let us know in the comments. Have fun, and good luck!