Blog Home
Alternative Holiday Tree Options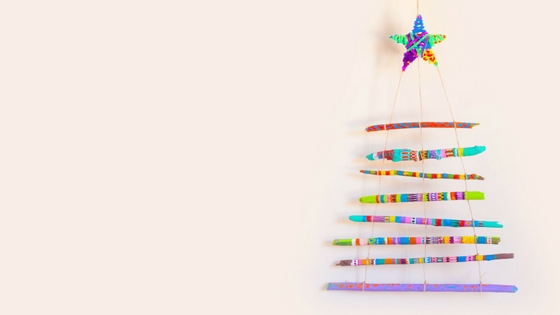 Decorate for winter or the holiday season by putting up an alternative to the classic evergreen tree in your apartment here at Crofton Village! This month we have fun ideas you can replicate in your home in Crofton, MD for something different this year.
Washi Tape Tree from Brit + Co
Washi tape is already an invaluable tool for apartment living. Stock up on some rolls this season if you haven't already (they may even come in your favorite colors for this time of year!). You can mimic the tree shapes shown in this Brit + Co article, or you can make one up yourself! We love the freedom that comes with this idea that takes up no space.
Arts and Crafts Tree from HouseBeautiful
This idea is great if you actually do want to use a traditional tree in your decorating. It takes craftiness to an elegant level by using "artfully hung" Chinese silk pincushions and silk flowers for decoration. But if your idea of arts-and-craft ornaments is more along the lines of an ornament made of popsicle sticks and your elementary school picture, go for that! Make it crafty by embracing the nostalgia and making use of your old ornaments or making your own with your friends and loved ones.
Greeting Card Tree from Home Life
On the third slide of Home Life's slideshow on ideas for crafty decorating, you can see how this type of tree might be a fun, cute way to display the cards you receive over the course of the season. Just find some painter's tape and tape them on a blank wall to make use of your mail. Try to use cards with a unified color scheme to create the look you want.
What are your favorite ways to decorate for this winter season? Let us know in the comments! We'd love any more ideas for fun tree alternatives to try this year. Have fun crafting and decorating!